How to avoid being scammed
Scammers have been using the COVID-19 pandemic as a hook to try to con people, prompting a warning from the competition watchdog to be alert for the signs of scams.
Figures from the Australian Competition and Consumer Commission's (ACCC) Scamwatch website show more than $6.2 million was lost to COVID-related scams since the start of the pandemic.
Investment scams were the most costly for Australians last year, followed by dating and romance scams.
The ACCC says there are steps people can take to spot and avoid being scammed.
An example of a scam text message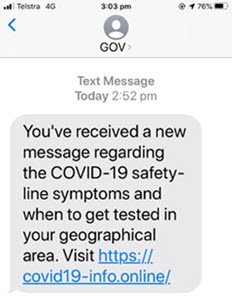 How to recognise a scam
The watchdog says scammers may use the following tricks:
Pretending to be someone you know or from a well-known or reputable company.
Telling you to call certain numbers or go to certain websites.
Trying to get you to act quickly, without thinking.
What to do if you suspect a scam
If you think you may have been targeted by a scam, the ACCC has the following tips:
Don't click on any of the links if it is a text or email.
Hang up the phone if it is a voicemail or call.
Do not allow anyone to access your computer remotely.
COVID-19 scams to be aware of
There are several known COVID-19-related scams doing the rounds, the ACCC says. They include:
Texts and emails from people pretending to be from the World Health Organisation or government agencies like MyGov with links created to steal personal information.
Superannuation scams, where people try to offer services you don't need and charge for it.
Fake online marketplaces that say they sell cures for COVID-19, vaccinations or face masks.
What should I do if I have been scammed?
It's often tricky to get your money back if you have handed over financial details to scammers.
However, there are some actions you can take to better protect yourself.
Call your bank to see if they can stop a transaction.
If your identity has been stolen, you can call IDcare on 1300 IDCARE (432273)
You can report a scam at scamwatch.gov.au
Visit the Your Rights Mob Facebook page for info about current scams
Make sure you change all of your online passwords
Tell friends and family about the scam.
SCAMS AT A GLANCE
Scams mentioning COVID-19: 5170
Money scammed in December 2020: $22 million
Money lost to dating and romance scams in 2020: $37.2 million
Money lost to investment scams in 2020: $66.4 million.
Age group that lost most to scams last year: 65+
Source: Australian Competition and Consumer Commission.
QSuper is a partner of the First Nations Foundation, which publishes this website.
The opinions and statistics in this article are the ACCC's and do not necessarily reflect the views of the QSuper Board. This article is general in nature and not personal financial advice.
Let us know if you liked this article
Let us know if you liked this article