Protecting your work – and income – in a digital age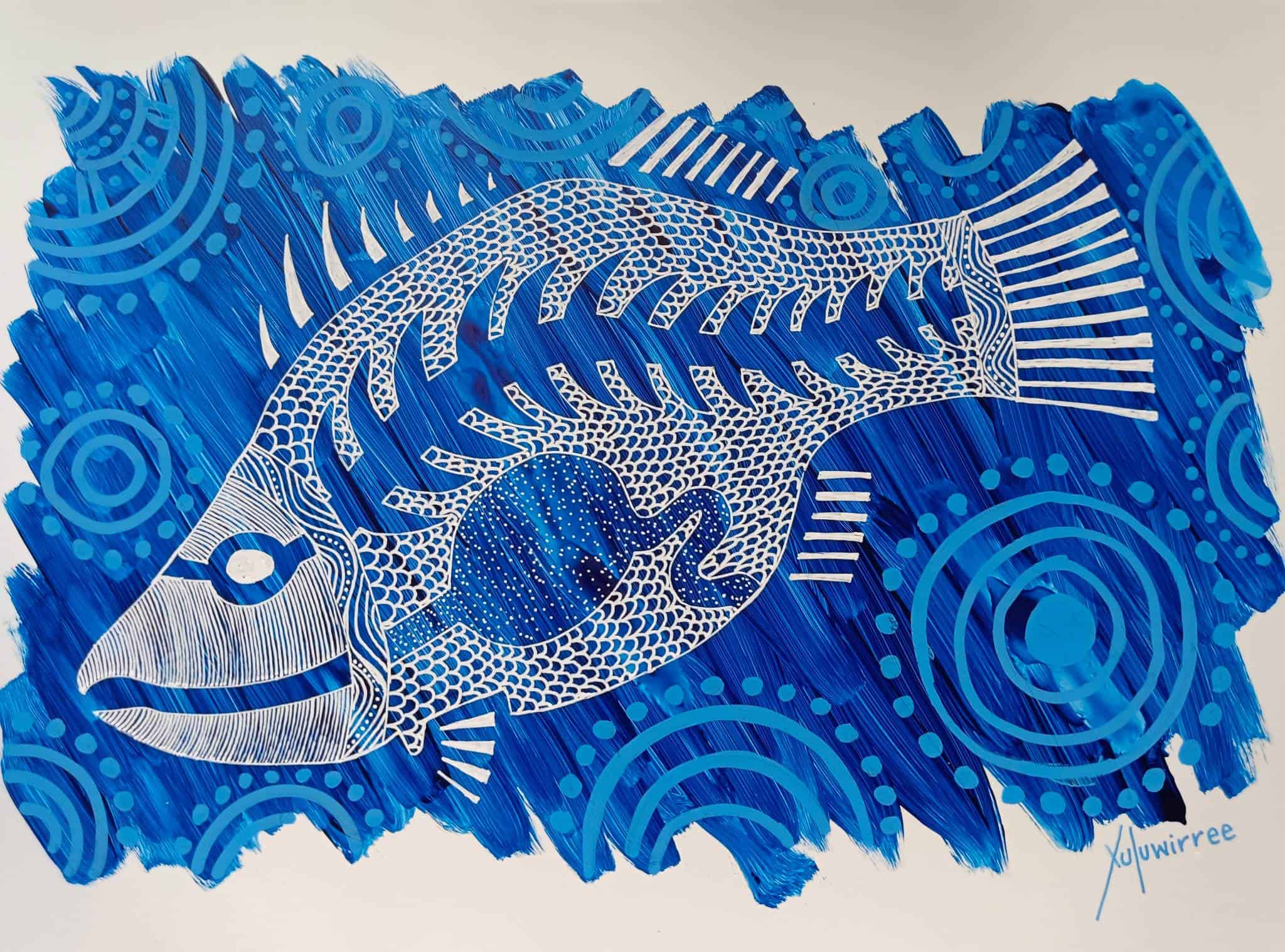 After a long hiatus from her artistic career, Ugarapul/Quandamooka artist Debbie Scott entered an unfamiliar digital world.
"I'm still finding my feet when it comes to outlets and digital showcasing," she said.
"Most of my artworks have been sold through solo art exhibitions, invitations to display at community galleries, school commissions and word of mouth.
"My digital presence is very, very limited; I have not marketed my work on too many portals, and am quite happy to continue moving at a controllable pace, as I am the sole provider in Yuluwirree Designs: artist, framer, marketer, and 'dogsbody' etc…"
Yuluwirree means 'Rainbow' in English.
Using art to teach
Debbie uses her creations as an instrument to educate Australians through art.
"Most of my clients' demographic is non-Aboriginal Australians keen to learn about Aboriginal culture," she said.
"We need to explain the diversity of Aboriginal people through language, Country, dance, and art… that stories vary, as does the art itself. I enjoy doing pen and ink works on 100 per cent cotton paper, but I also do acrylics because the colours give me more scope in creating interesting information and explaining various cultural activities – for example, fish traps and how Aboriginal people caught their meals. I use prominent colours for sand, vegetation, and blues for water."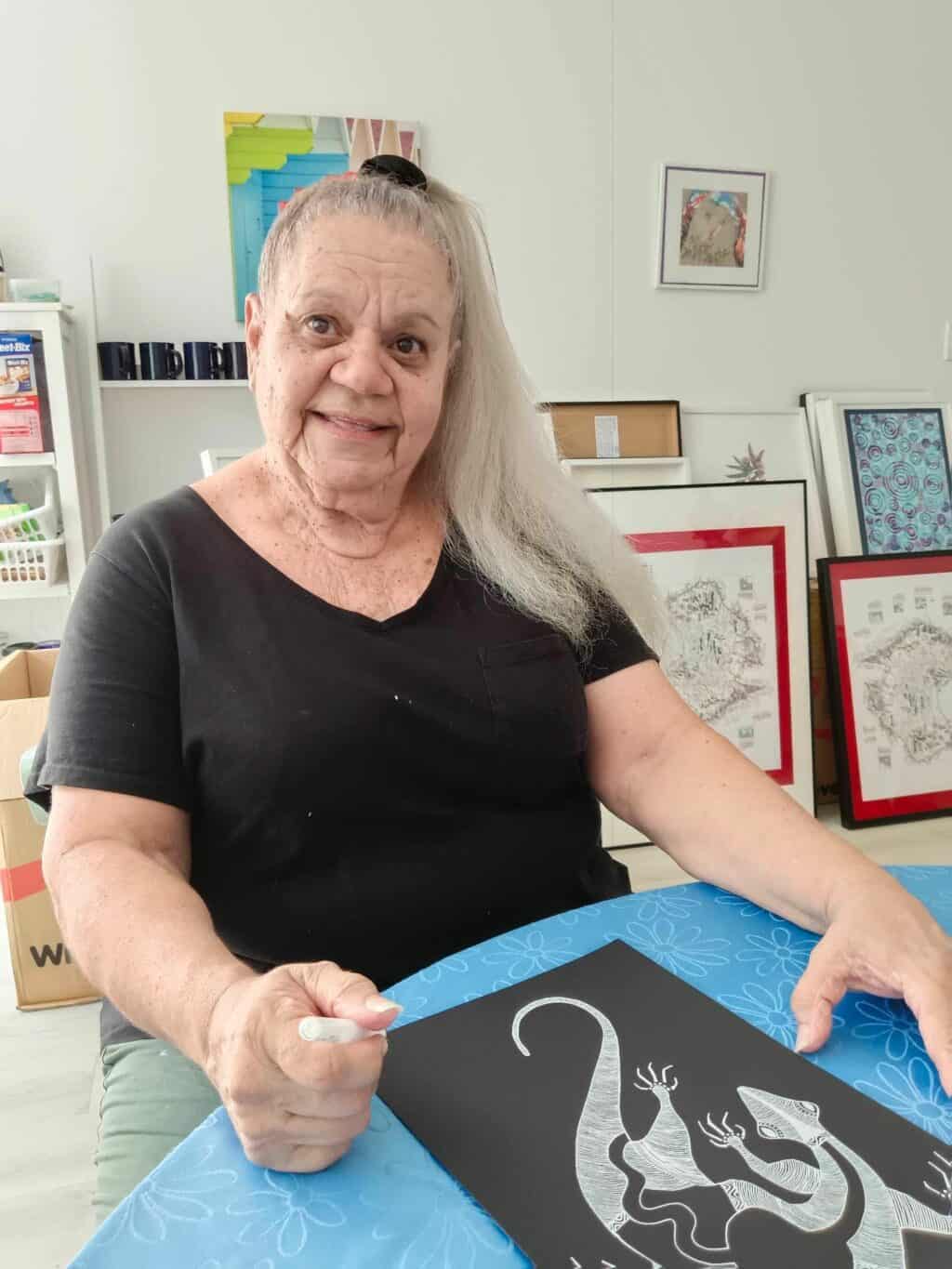 I encountered Yuluwirree's gum leaf artwork on a social platform and, since then, every gum leaf reminds me of her fine ink creations.
"It's more the style of the pen work I use on the gum leaves that people seem to like. The leaves came about as a small 'thank you' to a friend. Nature had already provided their beautiful colours, so I just added my pen work. I began doing my artwork in the eighties with only pen and ink, as it was a unique medium at the time. However, Aboriginal art became very popular with Expo '88, and I just couldn't keep up with the demand."
'Time is money': Valuing your work
Yuluwirree's return to the art industry capitalised on the surge in popularity of First Nations art, particularly on stationery and merchandise.
"I was approached by Blue Island Press to provide artworks for cards, calendars, prints, bookmarks, and gift cards, of which they will print and distribute to their stockists in New Zealand and Australia," she said.
"I've also just signed a contract with worldwide supplier of authentic Aboriginal Art Bulurru; in both cases, artists are paid a percentage and I'm quite happy with this."
Nonetheless, she confides that pricing her artworks is still a challenge.
"The diversity of the industry requires a personal approach in pricing your works. I have questioned many other artists – Aboriginal and non-Aboriginal – and the one thing they all agree on is 'time is money'! How much is your time worth in creating your works… that is my starting point."
Sadly, this digital world we find ourselves in has amplified the plight of First Nations artists worldwide, competing with inauthentic art and cultural appropriation.
"As technology gains ground, the art industry (as do most businesses), must ensure that their billion-dollar industry is secure worldwide; the Australian Aboriginal art industry has slowly recognised the need for artists to protect their intellectual property," she said.
"I have taken steps to protect my works by putting artistic signs within the artwork itself."
Although she said she cannot disclose these artistic signs, Yuluwirree affirms the benefit of tapping into services supporting Australian creatives.
"Like many Aboriginal artists, I am in the process of researching organisations to fulfil my requirements: Copyright Australia, Arts Law Centre of Australia, as well as the Copyright Agency and Artists in Black will all send you information." (See links at bottom of page).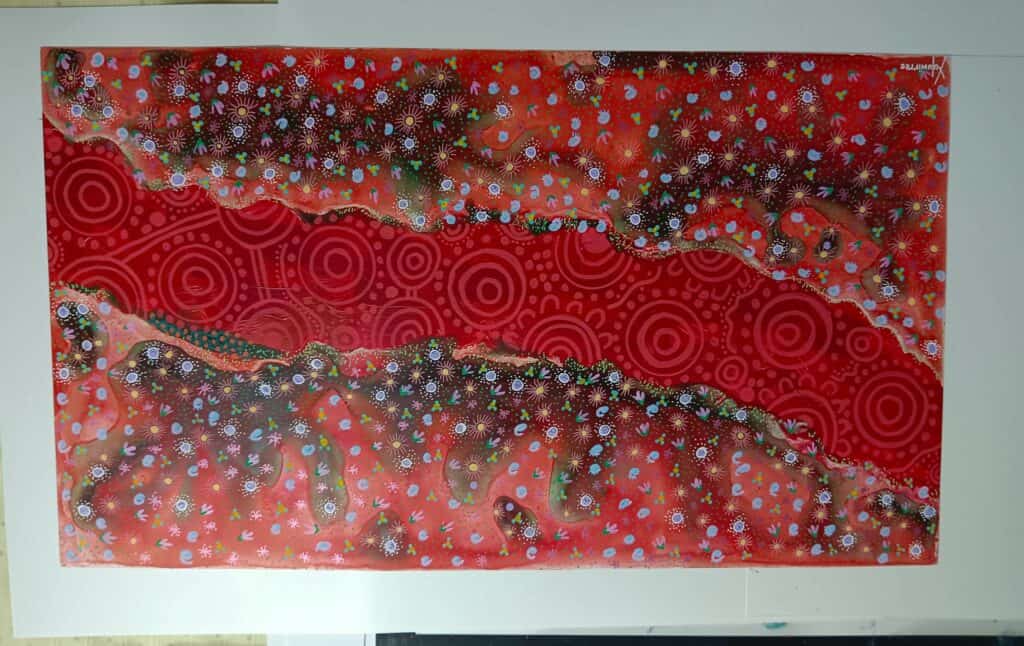 Yuluwirree's top tips for success
Her advice to First Nations artists striving to be noticed in the art industry is to foster good business practices.
"Take pride in your culture because it will show through your art."
"Use good materials (not cheap) paints, paper etc…
"Go one step at a time, it's easier to keep track of your work."
"Tell YOUR story: people are interested, and it helps to sell.
"Research your market… ask questions.
"Have good business practices: a bad reputation is not good business and news will travel – good or bad.
Most of all, enjoy what you do, and it won't seem like work at all."
Where to find out more
Artists in Black – https://www.artslaw.com.au/artists-in-the-black/
Free non-government service supporting Indigenous artists and arts organisations with legal advice and resources.
Arts Law Centre of Australia – https://www.artslaw.com.au
Free or low cost specialised legal advice, education and resources to Australian artists and arts organisations.
Australian Copyright Council – https://www.copyright.org.au
Independent, not-for-profit Community Legal Service (CLS) promoting copyright law and its application.
Indigenous Art Code – https://indigenousartcode.org/become-a-member-or-supporter/
Preserving fair, transparent, and ethical trade between Indigenous visual artists and art dealers.
Copyright Agency – https://www.copyright.com.au
Collects and distributes copyright fees for the copying and sharing of text and images.
Let us know if you liked this article
Let us know if you liked this article